I don't need to start investing for my retirement yet
Life's biggest events go best when we plan them well. Weddings, house moves, preparing to start a family – they all require our focused input and attention. And saving for retirement is no different.
And like those other life events, starting sooner rather than later often yields better results. The power of compounding returns (where you earn returns on your returns) is shown by the chart below, which illustrates two investors who both invest £100,000 into global equities. Investor A began in December 1996 and Investor B started five years later.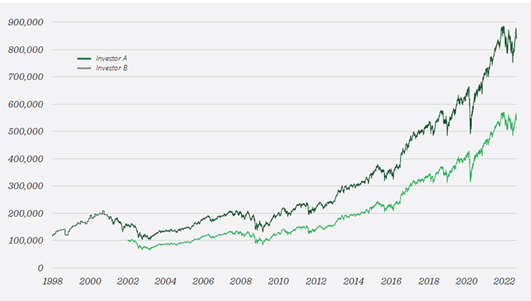 Past performance is not a guide to the future. The value of units may fall as well as rise.
Source: Quilter Investors as at 30 June 2020. Based on an initial investment of £10,000 into the MSCI World GBP return from 21/12/95 and 31/12/01.. The information provided is for illustrative purposes only and doesn't represent the past pferomance of any particular investment. It is not possible to invest directly into the MSCI World Index.
Furthermore, someone who starts saving in their 20s saves around twice as much as someone who starts 10 years later.
Make use of tax incentives on pension contributions
Any money you invest into a pension will be topped up by the taxman, with the amount being dictated by your income tax status.
This means that the longer you leave it to start saving for retirement, the longer you're leaving free money from the government.